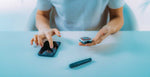 Did you know you have one of the best health tools within your reach? With your smartphone, you can easily gain access to a myriad of diabetes management applications. The goal is to choose an ideal application that tackles your requirements while also making diabetes management much easier. Applications may be a big help in aiding self-management for many individuals living with diabetes of all types, supporting dietary control, blood glucose monitoring, and diabetes awareness.
What are Diabetes Management Apps?
A diabetes app is a software application that helps users manage their health by providing a variety of interactive and beneficial features. Some applications offer management tools for glucose tracking, whereas others are particularly effective for tracking carbohydrates and activity levels. There are dietary and physical activity tracking apps that allow you to learn about the nutritional content of the products you consume on a regular basis. You can also get medication notifications and reminders that tell you when it's time to check your blood sugar levels. Some applications also allow you to connect to your medical provider's information portal, which will offer you personalized information about your condition.
How Apps Can Help with Diabetes Management
Diabetes is a persistent condition, and when combined with the strains of daily life, treating diabetes may quickly become a secondary goal for many people. Fortunately, these applications can support you in managing your condition more effectively. It provides lifestyle suggestions and reminders to help you adopt and maintain good behaviors that can improve your condition. Furthermore, certain diabetes applications connect you to groups of people who share your health concerns and goals. This gives you access to an emotional support system of individuals that can help you overcome certain situations related to your health conditions.
Choosing the Most Ideal App
With so many different applications to choose from, it can be difficult to decide on which one to use. A great way to know what works for you is to have a checklist of prerequisites. Some of the possible requirements you can have include having regular updates, user-friendly features, and good connectivity. A diabetes management app should alleviate you from the work rather than add to it. Considering these criteria can help you limit your options.
Limitations to Using Diabetes Management Apps
While these applications can be useful, there are some potential drawbacks that you need to keep in mind. Ensure that it is compatible with the measurement units you are familiar with. Mobile applications are continually evolving as well, with new software upgrades being released regularly. These upgrades may enhance the user experience, but they may also create issues that can impact the effectiveness of your diabetes management.
The
OKRA bluetooth glucose meter
works in conjunction with our glucometer app in order to provide more detailed information regarding your diabetes. Regardless of the application you choose, ensure that you have the necessary supplies to accompany it. Through the
OKRA Care diabetic test kit
, you can get an affordable all-in-one kit shipped directly to you. Insurance is not needed during the purchase and you can obtain a control solution, test strips, lancets, and much more.
---
← Older Post Newer Post →