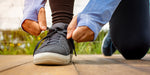 While diabetes is a lifelong condition with no cure, there are several things you can do to maintain your overall health and prevent diabetes-related illnesses. One way is through exercise to lower blood sugar levels, and it's never too late to start! Here are 5 steps for you to take on your fitness journey.
Step 1: Consult Your Doctor 
Before you start on any new workout routine, it's important to first consult your doctor and get their advice on what needs to be adjusted to suit your condition
You can also ask for recommendations on specific exercises that would work best for you, as every body is different!
Step 2: Plan Your Activities
Planning ahead of time can help you commit to your workout regimen, so it's important to make a list of the exercises you would like to try out. 
A combination of cardio and strength workouts usually helps your body use insulin and control your blood sugar levels.
Some exercises you can consider include riding your bike, swimming, aerobics, yoga, and weight lifting. Just remember to incorporate any workouts that you personally enjoy, as that will motivate you to stick to the plan long-term.
It would be unwise to do too many workouts that are high intensity in nature, as it could strain your joints, leading to a process known as glycation. This is where blood sugar starts to build up in your joints, increasing the risk of an injury.
Step 3: Work Out a Schedule
Having a schedule helps you look forward to your workouts, especially if it's also a social activity, like a jog in the park with a friend.
Doctors recommend that workouts should be done when you've had some food in your body as going without even just a light snack can cause your blood sugar levels to be low, and may also leave you feeling lightheaded, nauseous, or shaky.
Hence, you should aim to schedule your workouts about 30 minutes after having a snack, or 1-2 hours after having a meal. 
Step 4: Go prepared
Monitoring your sugar levels after a workout can help you decide on some adjustments to make. 
Since exercise is one of the activities that can trigger fluctuations in your sugar levels, you'll need a blood glucose meter on hand to monitor your blood sugar. Having an easy-to-use OKRA Pro Starter Kit Bundle on hand that has everything you need—a Bluetooth blood glucose meter, lancets, test strips, and more, is the way to go. 
Step 5: Start!
It's time to put your plan into action, and you can start slowly, increasing the frequency and intensity of your workouts gradually over time. 
Remember, getting in shape should be a marathon, not a sprint. If you feel sudden pains when doing the workout, stop immediately and consult a doctor. It might be necessary to make adjustments to the workout that will be best suited to your body.
In addition, you should proceed with care, and monitor your blood sugar levels regularly during workouts. With OKRA's subscription service, you never have to worry about running out of test strips again. Check out our glucose test refill kits that allow you to customize your quantity and delivery frequency preferences when ordering!
---
← Older Post Newer Post →