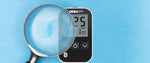 If you have diabetes, to measure and display your blood glucose/sugar level, you will likely need to use a blood test glucose meter. The level of your blood glucose is affected by various factors including stress, medications, food, and exercise. By tracking blood glucose level fluctuations, you can better manage your diabetes thanks to today's blood glucose meters.
With multiple options and features, from advanced meters to basic models, there are a number of available blood glucose meters. Test strips and blood glucose costs vary, as does coverage by insurance companies. Before you decide to buy a certain model, study your options.
Choosing the Meter that's Best for You
If you understand the basic workings of a blood glucose meter, it will be easier to pick the most appropriate one for your needs. The measurement of blood glucose levels is generally accurate, provided your blood glucose meter is stored and used properly. But various meters offer different features and come in different types. If you're looking at choosing a blood glucose meter, let's look at some of the factors to consider.
Support
When you need to call for help, a toll-free number should be provided by the meter manufacturer. So you use the meter correctly, make sure the instructions demonstrate meter usage. You may be able to find a website or use a manual from certain manufacturers.
Information Retrieval and Storage
How does the meter retrieve and store information? Some, over time, can track the results of a test, the date and time, and various trends. Some can use a smartphone app to share with your healthcare provider your real-time readings. You may also be able to email your doctor your results after downloading readings from your meter onto a computer.
Special Features
To make sure the meter meets your needs, consider special features which can include audio, an illuminated screen, easy-to-handle test strips and buttons, and more.
Ease of Use
Compared to others, some meters are easier to use. Ask yourself the following questions:
How much blood is required?
To get the blood onto the strips, how easy is it?
Can the numbers on the screen be easily read?
Is it easy to hold both the test strips and the meter?
Cost
Price varies per meter. Because, long term, the majority of the cost will involve test strips, figure those in.
Insurance Coverage
You should be able to get coverage details from your insurance provider. In some cases, precise strips, the number of strips allowed, and particular models may be specified. 
Shop OKRA Care for Test Kits, Refills, and Meters 
We are OKRA Care – a premier, innovative supplier of medical diagnostic equipment. We are a leading glucose meter brand that offers convenient, affordable solutions for managing diabetes.
Whether you need to purchase our OKRA Care
OKRA Pro Starter Kit Bundle
, OKRA Care
diabetic test refill kit
, or a blood glucose meter, you can do so at our website. Contact us at 833-977-1339 for more information!
---
← Older Post Newer Post →